Made By:
Jakks Pacific
Scale:
1/24
MSRP:
US$19.99
Overview:
Packaging (Design):
8/10
Packaging (Durability):
8/10
Casting (Body):
9/10
Casting (Interior):
8/10
Casting (Chassis):
8/10
Casting (Engine):
N/A
Paint (Exterior):
9/10
Paint (Interior):
8/10
Paint (Trim/Graphics):
8/10
Overall Panel Fit:
10/10
Total Score:
8.4/10

Other Pixar Models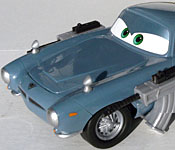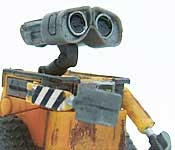 Cars 2 Shu Todoroki (Review)
Cars 2 Raoul ÇaRoule (Review)
Cars 2 Francesco Bernoulli (Review)
Cars Doc Hudson (Review)
Cars 3 Lightning McQueen (Review)
Cars 2 Lightning McQueen (Review)
Cars 2 Finn McMissile (Review)
Cars 3 Cruz Ramirez
Incredibles Incredibile (Review)
Cars Lightning McQueen
Cars 3 Jackson Storm (Review)
WALL·E
Cars Lightning McQueen (Review)
Cars Mack (Review)
Other 2000s Movie Models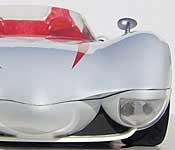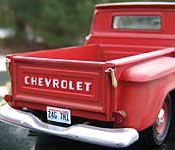 Collier & Co: Hot Pursuit Traveller
Star Wars E3 Starfighter
Final Fantasy VII Fenrir (Review)
Speed Demon Chevelle
Fast & Furious Chevelle (Review)
Megafault Dodge Ram
Little Miss Sunshine VW Type 2 (Review)
War of the Worlds Monte Carlo SS
Hidalgo
Minority Report Lexus
Harry Potter Anglia 105E
Dark Harvest 2: The Maize Durango
3000 Miles to Graceland Cadillac
Alone in the Dark VW Touareg
Dukes of Hazzard General Lee
The Bourne Ultimatum NYPD Impala
Watchmen Owl Ship (Review)
P2 Oldsmobile Cutlass Supreme
The Fast & the Furious '70 Charger
Finish Line Cobra
Other 2010s Movie Models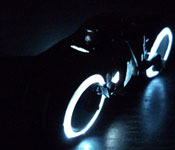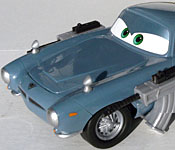 Furious 7 '70 Charger (Review)
Furious 7 '72 'Cuda
The LEGO Movie Cycle
Furious 6 GT-R Ben Sopra (Review)
Safe Crown Victoria
Batman v Superman Batmobile
Furious 7 Lykan HyperSport (Review)
Furious 7 Maximus Charger (Review)
Jack Reacher '70 Chevelle
Deuce of Spades '32 Ford
Cars 2 Finn McMissile (Review)
Big Hero 6 Baymax (Review)
F8 of the Furious Ripsaw
Jurassic World Mercedes-Benz G550
Need for Speed 2015 Mustang GT
Hobbs & Shaw Peterbilt (Review)
Atomic Blonde Porsche 911
Furious 7 '70 Road Runner (Review)
Men in Black III Ford Galaxie
Transformers 5 Hot Rod (Review)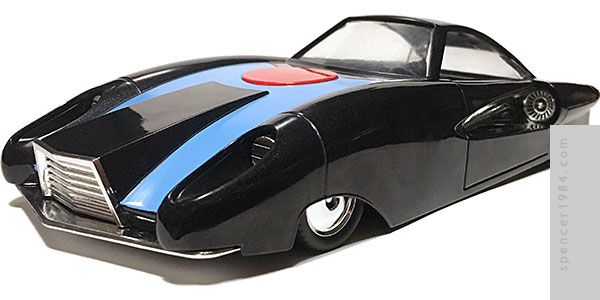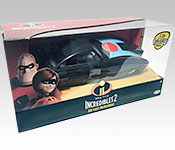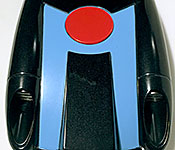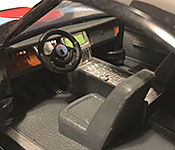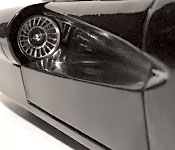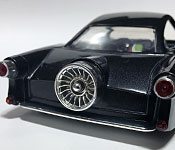 Background
Part Batmobile, part Bond car, and part Gadgetmobile, Mr. Incredible's car has the ability to blend in with traffic disguised as an ordinary car until it's time to spring into action. Then with the turn of a dial, that ordinary car turns into the Incredibile, a high-performance coupe complete with afterburner.
Packaging
Similar to Jada's releases, the Incredibile is in a box with the top forward corner being made of folded plastic to allow for an unobstructed view of the car. The front panel has Mr. Incredible and Elastigirl to the left of the main window, with their portraits forming part of the edge. The Incredibles 2 logo and title are centered in a black bar under the window, above "die cast Incredibile." The Jakks Pacific logo is in the bottom right with an 8+ age restriction, and a "1:24 die-cast vehicle" sticker is in the top right corner of the window. The top and right panels simply have the movie title/logo. The left end has the same title/logo below a larger portrait of Bob and Helen. On the back is a single large product shot, co-sells for the 1:64 vehicles by Jakks Pacific, and a short blurb about the car. The legal info is on the bottom panel. Inside, the Incredibile is held to a folded cardboard tray via two screws with a single plastic band around the middle of the car to keep the doors closed.
Casting/Paint
The Incredibile draws inspiration from a distinct era of automotive design, when swooping fenders, headlight tunnels, and fastback rooflines were all the rage. These aren't necessarily the easiest shapes to recreate, especially with the added contours like the side intakes and raised grille, but Jakks Pacific has done an excellent job here. Panels are clean and smooth, with tight break lines and a fantastic parts fit. The body is entirely diecast metal, with chrome plastic used for the bumpers, grille, headlights, side intakes, rear exhaust, and taillight bezels. The windshield, quarter windows, and rear window are a single piece of clear plastic, molded to reduce the step between the surface of the body and surface of the glass. The taillights and lower rear indicators are transparent red plastic. Tires are soft vinyl wrapped around chrome plastic wheels. Paint is a glossy dark metallic charcoal that looks black under some lighting, with a matte blue "M" and a gloss red tittle on the hood. These are sculpted elements, and while that helps most of the paint stay where it belongs a little bit of blue has missed the mark up near the windshield.
Inside, most surfaces are cast in a medium/dark gray plastic that is colored and textured in a reasonable facsimile of vintage Naugahyde. The layout is basic but thorough: a bench seat under the rear window, two bucket seats up front flanking an elaborate center console, fully detailed door panels, and a wide dashboard with a painted wood insert. Silver paint is used for the instrument cluster and center console, which is nicely detailed with various knobs, levers, and switches (including the Manual/Hover Mode/Hydro Pursuit/Isolate Pursuit/Auto Mode/Merge Pursuit selector used in the film). A little more paint would add to this area, but Jakks did add stickers for the monitor screen, red button, and center of the steering wheel.
Under the car is a surprisingly well detailed chassis, with engine, suspension, and frame components all easily recognizable. There's even some silver paint on the exhaust pipes and a weave pattern that mimics the megamesh used in Mr. Incredible's vintage super suit. It's a neat little Easter egg and a reasonable addition to a super car that may need a little extra protection without having to add the weight of traditional armor.
Features/Accessories
The only feature here is the opening doors, but the hinges work well and close nicely, allowing an uninterrupted look to the side coves.
Accuracy
With the exception of a few missing paint apps, this is a spot-on replica of Bob's classic ride. From the overall shape to subtler lines like the wheel arches and raised grille, Jakks Pacific really did some outstanding work capturing the look and feel of the car. The extra details in the turbines, lights, and interior all match up nicely to what we saw on the screen as well. I can't find any official stats to confirm the car's scale, but it looks good compared to other 1/24 scale vehicles.
Overall
I've wanted an Incredibile for my collection for 14 years now, and during that time assumed I would be making a custom (bordering on scratchbuild). I was surprised to see one as part of Jakks Pacific's lineup for Incredibles 2, and couldn't be happier with the job they did. From the screen-accurate detailing to the clever chassis work, it's clear that some real thought went into this. Very highly recommended.
Have a question, comment, or criticism about this review?
Send me an e-mail
with your thoughts!