Made By:
M2 Auto-thentics
Scale:
1/24
MSRP:
US$19.99
Overview:
Packaging (Design):
9/10
Packaging (Durability):
0/10
Casting (Body):
9/10
Casting (Interior):
9/10
Casting (Chassis):
8/10
Casting (Engine):
8/10
Paint (Exterior):
10/10
Paint (Interior):
7/10
Paint (Trim/Graphics):
6/10
Overall Panel Fit:
10/10
Total Score:
7.6/10

Other Factory Stock Models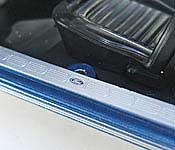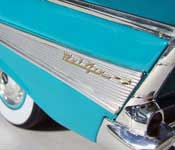 '69 Charger (Review)
Ford E-250 Van
I Am Legend Shelby GT-500
Smokey & the Bandit Firebird T/A
Thunderbolt & Lightfoot Firebird
Bullitt Charger
3000 Miles to Graceland Cadillac
Chevrolet Suburban (Review)
'84 Monte Carlo SS Redux
Bullitt Mustang
'57 Chevy Hardtop (Review)
'57 Chevy Convertible (Review)
'98 Corvette
Diamonds are Forever '71 Mustang
Terminator 2 Harley-Davidson
DeLorean DMC12 (Review)
'49 Mercury Convertible (Review)
Chrysler Howler (Review)
'70 Challenger (Review)
Saleen S7 (Review)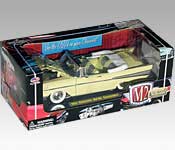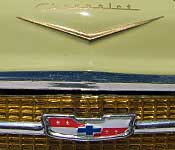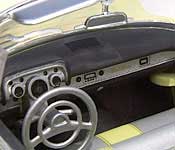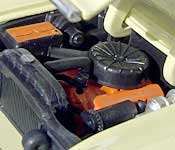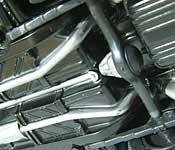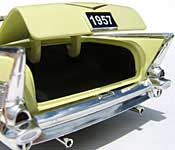 NOTE: This is a modified reissue of an existing model, and this review will focus on the changes made between the cars. You can see the original review for more details.
Packaging
The outer packaging here is identical to the previous release, except "Release 1" has been replaced with "Release 2" on the back panel. Inside, unfortunately, things have taken a turn for the worse. The diamondplate of R1 has been replaced with a mirror chrome surface, and either the new surface, a new standoff panel, or mold rot has resulted in less space between the car and the base. This means that when the mount screws were tightened at the factory, the rear axle was snapped at both wheels. I've come across several boxes from different manufacturers that did little to protect their contents, but this is the first one I've encountered that actually damaged the product on its own (noted in the "Durability" rating to the right, which measures how well the package protects the vehicle). Hopefully I got the one dud that missed QC, and this is not indicative of the rest of the line.
Casting/Paint
All casting below the beltline is identical to the earlier release, which is good. The roof has been replaced with a stand alone windshield frame (complete with sun visors) and a boot to indicate a retracted convertible top. Both new pieces stand up to the quality of the original, and show off the interior better. This has the unintended side effect of also showing that the steering wheel is both too thick and too close to the seat. The mold has not changed since the hardtop, but the roof and choice of colors helped hide it better. Also, there seems to be an issue with the paint used on the whitewalls: they are sticky, as if the paint hasn't dried completely or is reacting to the tire material.
Features/Accessories
No changes here, and there does not appear to be any quality loss.
Accuracy
The same plusses and minuses from the hardtop are here: overall body proportions are excellent, the wheels are too big, and the paint (Colonial Cream this time) is a tad too dark.
Overall
This was so close to perfect. It's M2's great looking '57, now in a style and color that are in this scale. The sticky sidewalls are a minor nuisance, but as long as the car is kept in a showcase or its original box (anywhere to prevent dust from sticking to it) you will be safe. The rear axle is another issue altogether, and sadly ruins what would otherwise be a fantastic replica. I don't know how common this problem is, but if get a chance to check before you purchase be sure to look carefully and confirm that there is no tilt to either rear wheel before you buy. This isn't as good as the R1 version, but it's not a bad replica as long as you find one with an intact rear axle.
Have a question, comment, or criticism about this review?
Send me an e-mail
with your thoughts!