Made By:
Banpresto
Scale:
1/24
MSRP:
N/A
Overview:
Packaging (Design):
7/10
Packaging (Durability):
7/10
Casting (Body):
8/10
Casting (Interior):
8/10
Casting (Chassis):
6/10
Casting (Engine):
N/A
Paint (Exterior):
9/10
Paint (Interior):
8/10
Paint (Trim/Graphics):
8/10
Overall Panel Fit:
9/10
Total Score:
7.8/10

Other Comic & Manga Models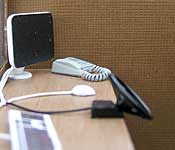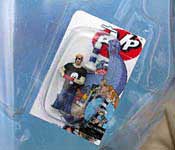 Deadpool Taco Truck (Review)
DC Bombshells Harley Quinn (Review)
Judge Parker Corvette
Pearls Before Swine Revenge-O-Mobile
Jigoro Jigorou Toyota Celica
Cyber Formula Asurada GSX (Review)
Detective Comics #400 Batmobile
Ctrl-Alt-Del Zeke
Garfield Parade Car (Review)
Evangelion Renault Alpine A310
Cyber Formula Super Asurada (Review)
Cyber Formula Knight Savior (Review)
Legends of the Dark Knight #5 Batmobile
PvP Mini Cooper
Transformers G1 Ratchet
Batman #20 Batmobile
Garfield Beach Car (Review)
It's Walky! 1986 Dodge Ram 50
Wangan Midnight Devil Z
Cyber Formula Experion Z/A-8 (Review)
Other Cartoon & Anime Models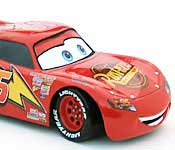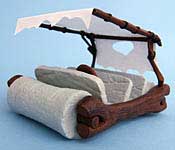 Chop Socky Chooks Cars (Review)
Jimmy Neutron Rocket
F&F: Spy Racers Thresher (Review)
Planes Dusty Crophopper (Review)
Paprika Aston Martin DB7
Roadster Racers Donald (Review)
Tekkonkinkreet Colt Galant
Steven Universe Van
Rick and Morty Space Cruiser
Batman:TAS Batmobile (Review)
Freedom Project Tricycle (Review)
G.I. Joe RAM
Batman:TAS Batmobile (Review)
Karate Kommandos Corvette
Cars 3 Jackson Storm (Review)
Cars Mack (Review)
Big Hero 6 Baymax (Review)
Roadster Racers Mickey (Review)
Transformers Optimus Prime
Speed Buggy Speedy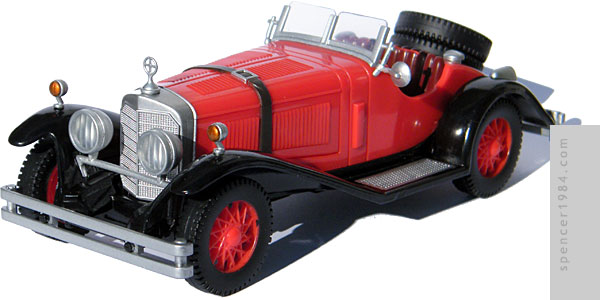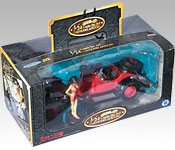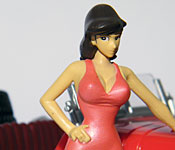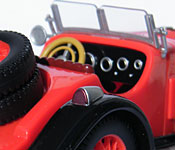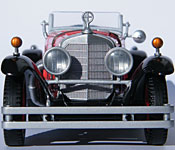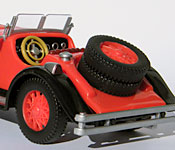 NOTE: This is a repaint of an existing model, and this review will focus on the changes made between the cars. You can see the original review for more details.
Background
In the original manga series, the first associate of Arsène Lupin III to be introduced was Fujiko Mine. Unlike Daisuke Jigen and Goemon Ishikawa, Fujiko was a competitor as well as a companion, frequently targeting the same prize as Lupin and his gang (with the occasional success). She is a skilled hand-to-hand combatant, an expert marksman, and a driving ace. While she prefers to use a Kawasaki motorcycle on the road, she is capable of driving nearly any vehicle—including Lupin's Mercedes SSK.
Packaging
The only difference between this and Lupin's box is the inner tray: Fujiko has been moved so she is closer to the front of the Mercedes. The turquoise tray looks much better behind the red car, though.
Casting/Paint
The casting is identical to Lupin's car, as are all of the paint applications. The only difference is the base body color, which is now red. That one change makes quite a difference, though: the darker color reduces the crude look of the wheels and eliminates the translucency of the main body. Unfortunately, this is offset by paint splotches on several wheels.
Features/Accessories
A 1/24 scale plastic figure of Fujiko Mine is included. Like Lupin she is pre-posed to work with the car, but since only her arm is involved she doesn't look quite as ridiculous by herself. The casting isn't quite as good as it was with Lupin, only because she is a slimmer figure without sleeves and pants to hide the parting seams. The detail work is still outstanding, though, with realistically posed hands, appropriate wrinkling on her dress, and finely detailed hair. The face is perfect, with an expression that perfectly fits the character and painted eyes that may be even better than Lupin's. There are some minor bleed issues along the edge of her dress, but nothing that stands out too badly.
Accuracy
Though not as famous as his yellow SSK, the red SSK has appeared in the Lupin III universe.
Overall
I like this version slightly better, but only because I prefer red to yellow. Both cars are well done and have outstanding figures with them, and are worth picking up if you find them at a reasonable price. Recommended.
Have a question, comment, or criticism about this review?
Send me an e-mail
with your thoughts!