Made By:
Jada Toys
Scale:
1/24
MSRP:
US$24.99
Overview:
Packaging (Design):
8/10
Packaging (Durability):
8/10
Casting (Body):
9/10
Casting (Interior):
8/10
Casting (Chassis):
8/10
Casting (Engine):
7/10
Paint (Exterior):
10/10
Paint (Interior):
N/A
Paint (Trim/Graphics):
10/10
Overall Panel Fit:
9/10
Total Score:
8.6/10

Other Classic TV Models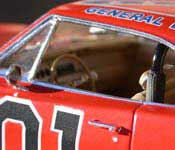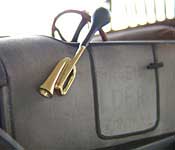 A-Team Corvette
Stingray 1965 Corvette
Batman Batmobile (Review)
Supercar
Man from U.N.C.L.E. Piranha
Batman Batmobile
Speed Racer F1 Mach 5
Danger Mouse Mk III
1966: Batman (Review)
Married...With Children Dodge
The Avengers Lotus Elan
Miami Vice Ferrari 365GTS/4 Daytona
Doctor Who TARDIS
V.I.P. Jaguar
Flintstones Family Car
WWF "Macho Man" Bronco (Review)
Starsky & Hutch Ford Torino
Scooby Doo Mystery Machine
Knight Rider KITT
Dukes of Hazzard Undercover General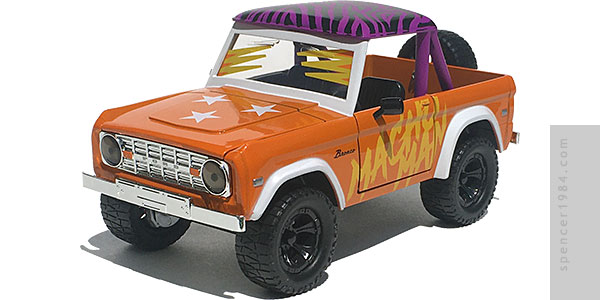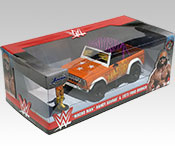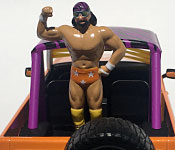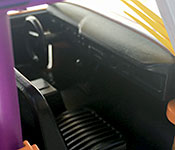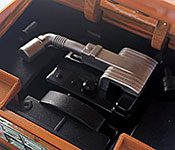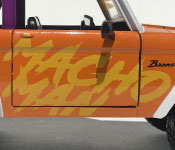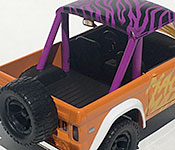 Background
Packaging
This is in Jada's standard Hollywood Rides box, now sporting the current WWE logo and a photo of "Macho Man" Randy Savage in his heyday. The photo is repeated on one end flap, while the WWE logo is on both end flaps. The back of the box has a photo of the Bronco and figure, which are each held inside the box with two screws. Plastic bands and a plastic tray further keep the truck closed up and safe.
Casting/Paint
Pretty standard fare for Jada: a heavy, clean-cast metal body with sharply done plastic details. Of these, the bumpers and grille are chrome, the roof/roll bar is purple, the windshield and lights are smoke tint clear, and the sideview mirrors are black vinyl with chrome glass inserts. Everything is done well and fit together beautifully, making for smooth panels and tight panel gaps. The paint further enhances the look with a bright metallic orange base and white fender flares and windshield frame. The graphics - white stars on the hood, yellow "Macho Man" on each side, black tiger stripes on the roof, and two-tone side spikes on the windshield - have a good opacity making them nice and bright. The few "stock" graphics include a black "Bronco" script on each front fender, black "Ford" on the tailgate, silver corner marker lights, and a Jada Toys/Just Trucks license plate sticker on the tailgate.
The interior is a simple black tray that includes the cargo bed. The minimalist detailing is appropriate for the Bronco, and actually works quite well in contrast to the over-the-top exterior. Even the shift lever, pedals, and steering wheel are black, eschewing Jada's usual chrome accenting. But the uniform look doesn't mean they cheaped out. The dash is fully detailed with all the appropriate gauges and switches, the door panels have detailed panels, and the cargo area has a ribbed floor texture.
Under the hood is a very basic representation of Ford's 5.0L V8. Most of it is an unrecognizable black lump between the inner fenders, but the separate silver intake makes the inspiration unmistakable. The chassis fares somewhat better, with detailed springs, frame rails, engine bottom, driveshaft, and dual exhausts with separate mufflers and tailpipes. Wheels - including the rear-mounted spare - are black deep dish six-spokes with black vinyl tires. Brakes are Jada's standard silver discs with red calipers.
Features/Accessories
The hood and doors open and close on smooth-working hinges that hold their positions perfectly. A 1/24 "Macho Man" Randy Savage figure is also included, standing with his left hand on his hip and his right arm flexing. He's painted to match the truck: orange briefs with white stars, white wrist and hand bands, a purple tiger-striped head wrap, and his trademark shades with the side spikes. The paint is generally good, though his shades look a little high on his head. But the lines are sharp and clean, and the slightly glossy sheen perfectly matches what Macho Man looked like in his promos.
Accuracy
This is not based on an existing design, but is instead a "character car" that simply uses an existing tooling with a new paint job to evoke a persona. That said, there are a couple of oddities with how Jada set up the Bronco's drivetrain. In an effort to simplify production, all first generation Broncos had four wheel drive and coil spring front suspensions with trailing arms. This has a 2WD drivetrain and leaf springs at all four corners. Oops.
Overall
Back when I reviewed Tony Stark's Camaro, I said that one of the things I appreciated was that I could see that car actually appearing in-universe. GM gives Tony a truck full of money and a new Camaro, he has the car repainted to match his latest armor, and it gets parked somewhere at the Stark Expo. This Bronco has the same vibe. While this isn't based on anything actually associated with the Macho Man, I could absolutely see this rig being driven through the doors of the arena and up to the ring where Savage leaps out to begin his event. Or ramp it right over the ring and have him jump out in mid-air. It just fits the persona perfectly. Scaling is, as usual, Jada's weakness (this works out to about 1/21 scale). But in wrestling, everything is larger-than-life...so why not the trucks?
Have a question, comment, or criticism about this review?
Send me an e-mail
with your thoughts!